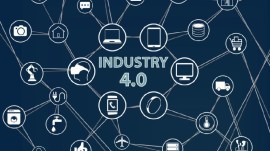 Some have compared Industrie 4.0 with the Fourth Industrial Revolution.
It represents the current trend of automation and data exchange in manufactuting technologies, from the third industrial revolution will become the concept of the interconnection between different technologies and different device.
Smart factories is designed and engineered on organizational and logistical modular structures that allow to collect huge amounts of data about the production and the processes. With this data will possible to take not only smarter decisions with a view to optimization and production efficiency, but also a new interface between user and machine designed to reduce the time to market.
The INDUSTRY 4.0 will bring the production entirely Automated, where operators, machines, components and systems are Interconnected in real time and can communicate and collaborate.
Thanks to its organization and experience in applying the principles of mechatronics, Denken Italia Srl is able to play a leading role in the Forth Industrial Revolution, in the INDUSTRY 4.0; offering a complete support to automate the production process, building machines and automatic lines, from design to construction.
New procedures and tax incentives in Italy for the Industry 4.0.